Trekking in the Nepal Himalaya

Nepal is one of the world's greatest trekking paradises that provides a great experience and unbeatable combination of diverse geography, flora, fauna and complex cultures. It is also a pilgrimage to those long-cherished mountains, during which one leaves civilization behind and enters remote lands, traveling by foot over mountain ridges, crossing deep valleys and sleeping in one village after another. Social Journeys presents a wide selection of trekking itineraries in the Nepal Himalayas, offering opportunities for people with any degree of experience and almost any time frame. Click on listed below trek to know more details about each trip.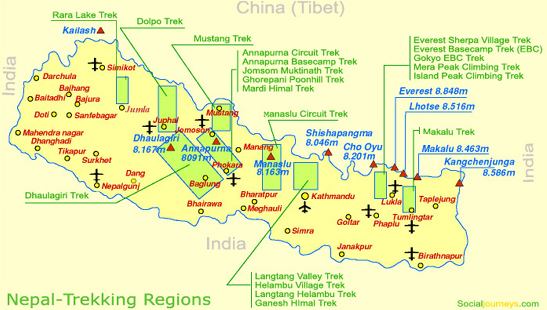 How to trek
For many of our treks, you can choose between camping and staying in mountain lodges.

Camping Trek: The classic style of trekking is the Camping trek, where a group camps in luxury tents each night and a trekking crew accompanies the trip. Porters or animals carry all trekking equipment, food, fuel, and personal belongings, cooks prepare hygienic meals and a guide leads the group and handles all arrangements.

Lodging trek: In the popular areas such as the Annapurna, Langtang and Everest areas, where there are nice mountain lodges, also known as tea houses, for most of the length of the trek, tea house trekking is common. Teahouse treks mean that groups use private mountain lodges along the route for accommodations and meals. Porters or animals carry all gear, and a guide travels with the group and handles all the arrangements, including food and accommodations.

Trekking in Nepal can be undertaken throughout the year depending on the region. The best time for trekking is during spring and autumn. Spring (March – May) is the time for rhododendrons, while the clearest skies are found after the monsoon in Autumn (September - November). The winter (December – February) months provide good trekking conditions throughout the foothills below 3000 meters, since some of the higher passes will be closed due to snow. Unlike other parts of Nepal, the monsoon season (June – August) is the ideal time to visit the region that falls in the rain-shadow regions north of the Himalaya, such as Mustang, Dolpo, Humla, Jumla of Nepal and of course the regions of Tibet.
Easy: Trekking at altitudes below 3000m but entailing a lot of ups and downs, walking on mountain trails for 4 to 6 hours a day. These treks are suitable to family groups with younger children and with limited time. These lower altitude treks often provide colorful horizons of a whole series of mountain ranges.
Moderate: Moderate trekking to altitudes that average 4500m, possibly involving side trips to higher elevations and generally of two weeks duration. These are tougher than easy treks and involve more walking up and down, sometimes at slightly higher altitudes, where you will be rewarded with close–up views of big mountains.
Strenuous: Treks of a demanding nature, requiring all participants to be fit and in excellent health, often in remote alpine areas and sometimes reaching altitudes in excess of 5500m. These trips include a physical component with some mountain experience. Trekking will involve some steeper ups and downs on well-defined trails.
Challenging: The main component at this level is likely to be a long, high altitude trek that requires physical and mental stamina. Altitudes will often exceed 5000m, where the treks involve camping for relatively long periods. A high level of preparation is required, with basic knowledge of the use of crampons, ice axes and rope climbing is essential before embarking on one of these adventures.